UK areas with the most vegetarian friendly properties to rent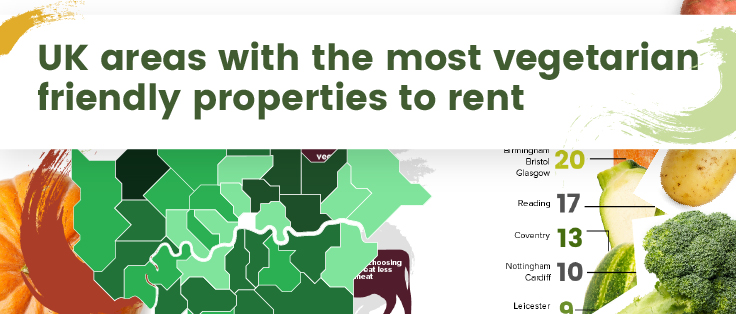 The plant-based diet is becoming more and more popular among Brits, with 7% admitting to being vegan while 14% having adopted a vegetarian diet in 2018, according to new data from comparethemarket.com.
For those who are vegetarian or vegan, it is a very important part of their lifestyle and in some cases, it is a belief. Consequently, if you're in a position of not renting a home currently, whilst you consider buying a property, sharing a kitchen with others who eat animal products can be an issue for some.
As a result, online housing agents Fasthomes.org investigated the rental market for individuals who are vegetarian and perhaps looking for a property or room that accommodates their dietary requirements by extracting figures from Spareroom.co.uk from the beginning of August, to assess just how many properties available to rent per London borough and the 20 most populated towns and cities in the UK are 'vegetarian friendly'. And it seems choosing a 'veggie friendly' home isn't the only requirement for those who rent, as there has been an increase in the number of individuals look for pet-friendly homes to rent in London boroughs.


When it comes to London, the boroughs to advertise the highest number of vegetarian friendly households to rent are:
Harrow (55), Waltham Forest (26), Newham (19), Hackney (18) and Redbridge (14).
On the other hand, the boroughs in London with just 1 property listed to rent as vegetarian only are:
Bexley, Havering, Islington, Tower Hamlets and Wandsworth.

Simultaneously, the top 20 cities and towns outside of London that have the highest number of properties or rooms to rent that are veggie friendly are:
Manchester (31), Birmingham (20), Bristol (20), Glasgow (20) and Reading (17).
And the towns and cities analysed that have just 1 property/room to rent that is classified as 'vegetarian friendly' are:
Birkenhead, Newport, Bradford and Belfast.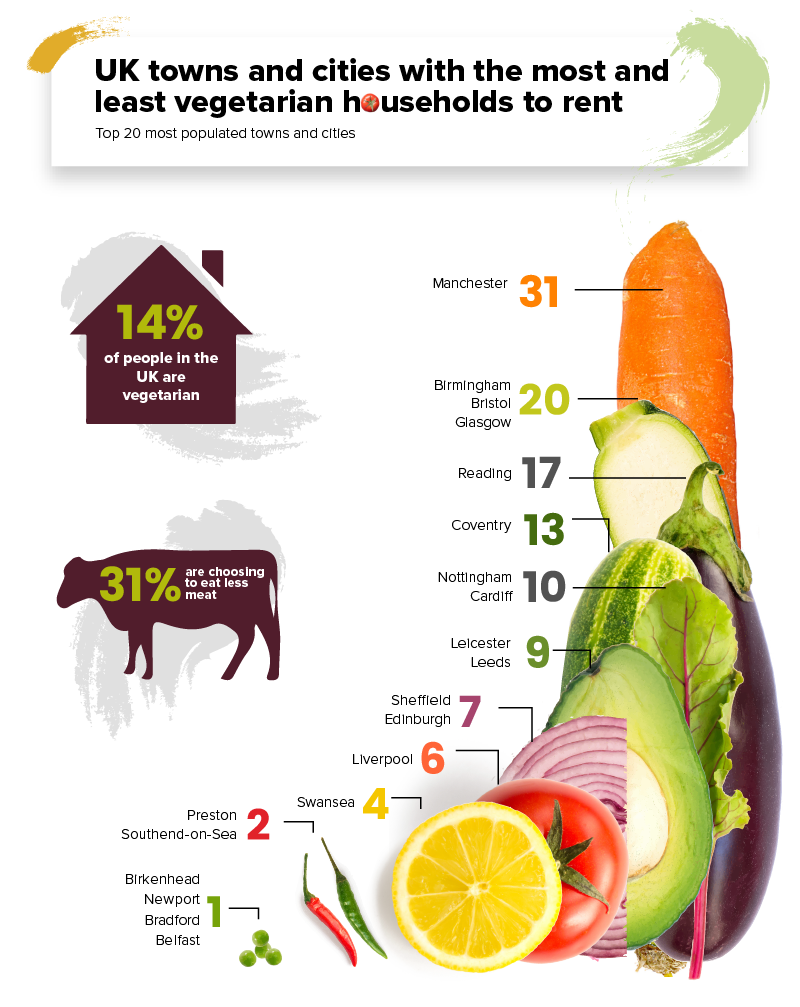 Why are people choosing to go vegetarian/vegan?
Furthermore, Fasthomes.org wanted to find out the motives Brits had behind their decision to become vegetarian or vegan. The results were attained by conducting a survey, asking 684 vegetarian and vegan people in England questions regarding their choice of diet.
Survey Results:
What was the reason for choosing a vegetarian/vegan diet?
For a healthy lifestyle – 41%
I am against animal cruelty – 28%
I like to follow trends – 3%
My partner/family was following the diet – 14%
Religion or personal beliefs -12%
Other – 2%
If you rent in London, do you factor in looking for a vegetarian friendly property?
Have you experienced any difficulties finding a vegetarian friendly property?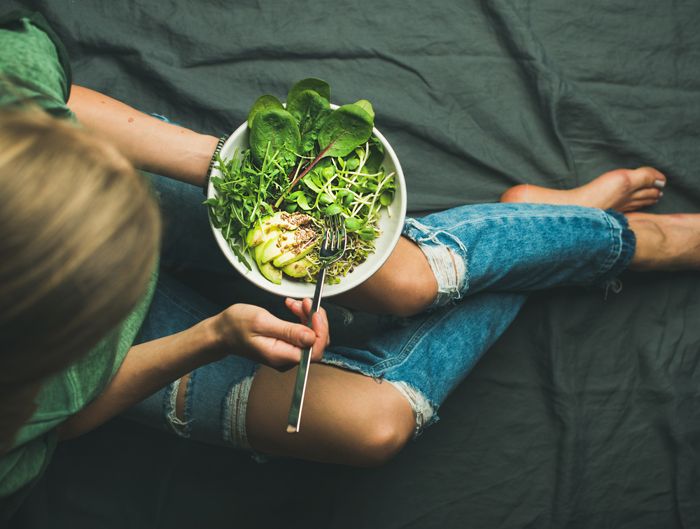 Image credit: Foxys Forest Manufacture/Shutterstock
What kind of difficulties have you experienced?
Not enough properties available – 51%
Other tenants not respecting the foods I can/can't eat – 35%
Difficulties in finding local veggie/vegan cuisine and restaurants in that area - 11%
Other - 3%
Would you encourage others to consider changing their diets?
Yes - 29%
Yes, but only family and friends - 38%
No, people can make their own decisions - 31%
I don't know - 2%