Property Buyer Guide 2018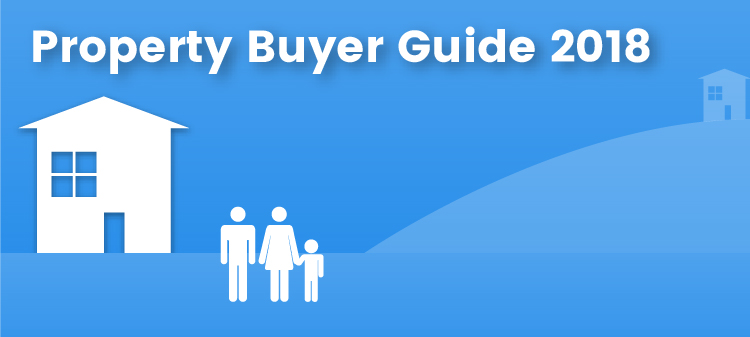 Buying a new property can be very exciting yet a bit nerve-racking, especially if you are a first-time buyer. It is vital to know not only the usual/customary steps such as choosing the right mortgage and arranging a solicitor, but also the often forgotten or less obvious considerations when buying a property in 2018.
Stamp Duty
With the recent news that first-time buyers could see a stamp duty cut, timing becomes critical in purchasing a property. If you are in a hurry to buy and can't afford wasting any time for the government to decide, this is everything you need to know about the current stamp duty land tax.
Residential property rates
If you opt for a residential property you should expect to pay the following SDLT rates for both freehold and leasehold sales: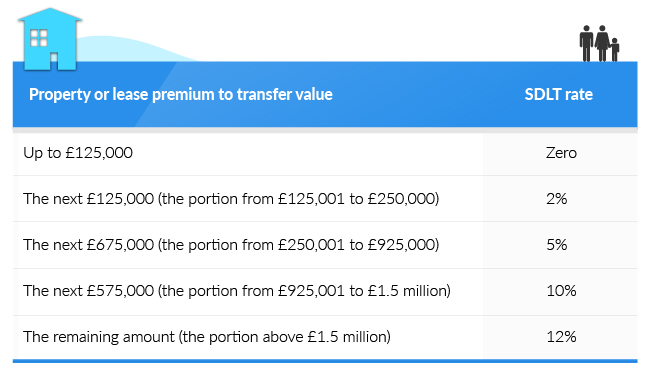 If you choose a leasehold property and if the net present value is more than £125,000 you are also expected to pay SDLT of 1% on the portion over £125,000. This is not the case if you buy an existing 'assigned' lease.
For more information about leasehold properties go to https://www.gov.uk/leasehold-property
Additional Properties
If you already own a property and are looking to buy another one you'll have to pay 3% on top of the normal SDLT rates which are as following: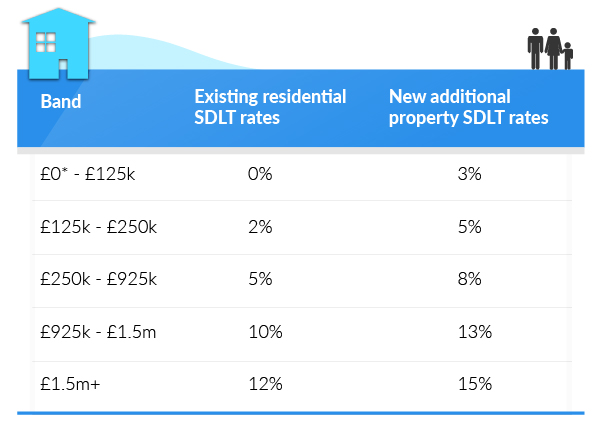 If you are looking to replace your main residence, you will NOT have to pay the extra 3% SDLT if your main property has been sold before the purchase of the new property. The extra 3% only applies if you own more than one property.
You need to send an SDLT return to HMRC and pay the tax within 30 days of completion.
If you are working with a solicitor, agent or conveyancer, they would usually pay the tax and send the SLDT return on your behalf.
Help to buy schemes
With the predicted house price rises peaking around the corner, potential buyers can find themselves overwhelmed with the costs, therefore choose to apply for a Help to Buy Equity scheme; initiative set up by the government. Although they are enticing and are meant to accelerate the process of buying a home, you need to be aware of the least appealing parts of these schemes as well.
These are the Pros and Cons of the Help to Buy Equity scheme:
Pros:
You will be able to buy a home sooner than expected. This is the reason why Help to Buy exists in the first place, to help potential buyers that cannot afford a deposit. As a result, the housing market and the wider economy will notice a boost.
Only a very small deposit is needed. While you still need to save money for a deposit, this will be set to a manageable level of 5%.
No interest during the first 5 years, which is especially favourable for first time buyers which can find this period financially strenuous.
You are more likely to qualify for a mortgage as you need to borrow less money.
After 5 years you get a competitive loan rate.
Cons:
Your loan will become more and more expensive. After the five-happy interest free years, the rate of interest applied to your loan will increase yearly.
All the outstanding loan needs to be paid before selling the property.
The amount of money you need to repay is not fixed as it fluctuates with the market value of your property due to the fact it is percentage-based.
You are restrained to buying only new properties.
Eligibility:
To be eligible to apply for Help to Buy schemes you must meet the following criteria:
Applicants must be first-time buyers or be in the process of selling their current property. If you own another property you can't apply.
The household income of the buyer cannot exceed £60,000 per annum
Buyers need to be able to prove they can't afford a suitable property to meet their households needs
They also need to show they are able to pay the regular costs involved in buying and running a property
Buyers need to have a good credit history
Buyers can't have County Court Judgements
Buyers need to prove they have easy access to the 5% deposit money for the property
For more information on the Help to Buy Equity scheme visit https://www.gov.uk/affordable-home-ownership-schemes/help-to-buy-equity-loan
Another option for first time buyers is the Help to Buy ISA scheme. This is a tax-free savings account designed to help first-time buyers purchase a property. The government will top up your savings by 25% (up to £3,000) when you are saving to buy your first home.
These are the pros and cons of the Help to Buy ISA scheme:
Pros:
It is tax free, meaning that you don't pay income tax on the interest you earn up to £12,000.
It is available to anyone aged 16 or over, with the condition that they need to be first-time buyers who never owned a home before.
The Government adds a generous 25% bonus.
If you are buying as a couple, each individual gets their own account, meaning that you'll be able to save £24,000 in a Help to Buy ISA and get a maximum bonus of £6,000.
You can carry on paying in money indefinitely as there is no time limit to how long you can save for.
You can use Help to Buy ISA on both new-build home or older re-sale ones, as long as they are in the UK and bought for you to live in.
You can choose from many providers as most high street banks offer Help to Buy ISA, just make sure to compare interest rates.
If your interest rate is not competitive you can switch your Help to Buy ISA between providers.
You can withdraw you cash any time but that means losing the Government's bonus.
Help to Buy ISA can be combined with other first-time buyer property initiatives, such as the Help to Buy Equity scheme.
Cons:
The tax-free bonus is only payed at the point of completion, meaning that you can't put it towards your deposit.
There is a cap on the value of property purchases of £450,000 in London and £250,000 outside the capital.
The Help to Buy ISA is just available as cash.
The amount of money you can save is less than a regular ISA.
It does not guarantee you will secure a mortgage.
No interest will be received on the Government's bonus.
Eligibility:
To be eligible to apply for Help to Buy ISA you must meet the following criteria:
The property you are looking to buy must be priced at up to £250,000, or up to £450,000 in London.
It must be the only home you own.
It must be where you intend to live.
For more information on the Help to Buy ISA scheme visit: https://www.gov.uk/affordable-home-ownership-schemes/help-to-buy-isa
Top property investment hotspots
In the research conducted by Barclays Property Indicator predicts a 6.1% house price rise over the next 5 years. The research involved analysing data from 12 key indicators including: rental increases, employment levels, past trends on property prices, earning levels, commuting patterns and projected population growth. As a result, they anticipate the following property investment hotspots: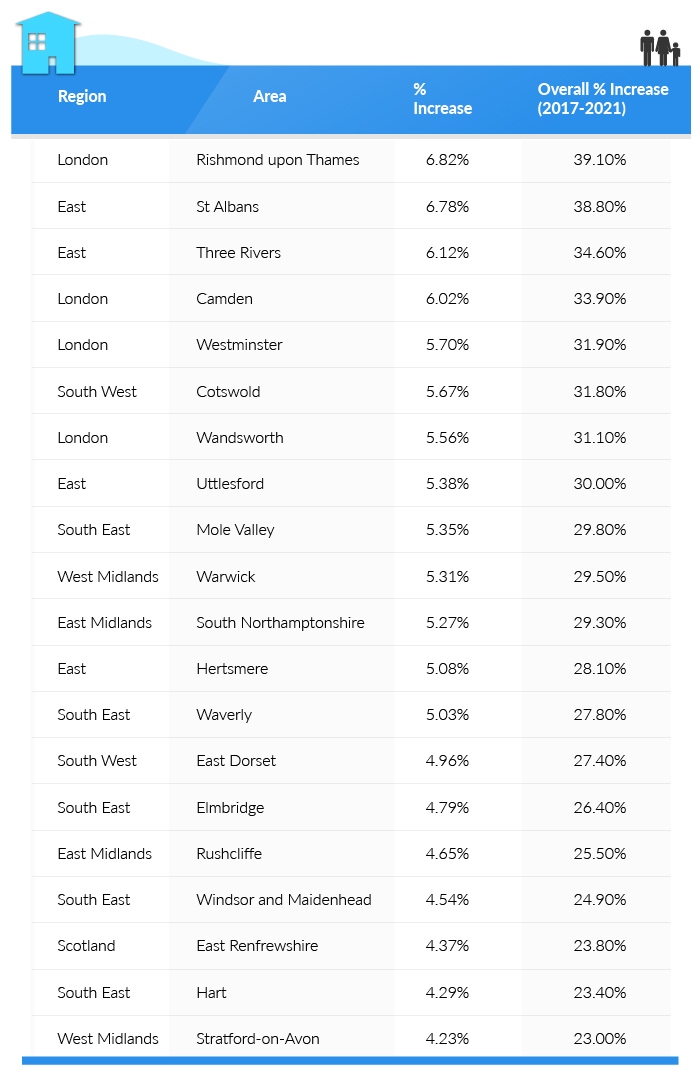 And before you can invest in a property, these are the considerations you should account for as some issues found in a property can become 'deal breakers'.
Check out the neighbourhood
On your way to your viewing make sure you take a close look at the neighbourhood. Perhaps before the viewing, you have already checked the crime statistics for the area, often available on estate agent websites. But when driving through the area, take a closer look at the surroundings; what shops are available, young or old demographic, is it clean or dirty - it is important to see it all for yourself. The devil is in the detail, so keep an eye out for anything that might be a concern: Are walls scrawled with graffiti? Are the cars clean and well-maintained? Are there any schools around?
Another tip is to check what's being built in the area. Some changes might not be to your liking or on the contrary, they can make the neighbourhood even more desirable, so make sure to check the Government Planning Portal for details of ongoing or upcoming projects in your area. Bearing in mind, any new projects can add value to your home, and area as a whole.
Keep an eye for 'deal-breakers'
When looking for potential pitfalls on a property, it is useful to have a friend or a specialist with you who can identify any major issues with the property and to give you an honest opinion on the property. A small issue such as a broken door handle shouldn't be a deal-breaker but keep an eye out for the following issues which could become a cause for concern:
Mould: Make sure you not only check the walls, but also look under the carpets, inside cupboards, outside walls, and be aware of damaged wallpaper and condensation on windows. Furniture might be also placed strategically to cover any mould or damaged areas.
Plumbing: Flush the toilets and turn the taps on to make sure everything works perfectly. Make sure to also open the cupboards to check for any leaks.
Central heating: Nobody wants to move into a new home only to find out the heating is not working properly. To avoid this dreadful situation, ask the seller to switch on the boiler and turn on the central heating. Check the radiators for leaks and rust.
Phone signal: Turn on your phone and check for signal strength. A mobile dead zone is not ideal for anybody and could decrease the re-sale of the property.
Look up: Make sure to double check the loft and the roof. Look for any signs of wood deterioration, as well as cracks and holes. If found, consider these a red flag.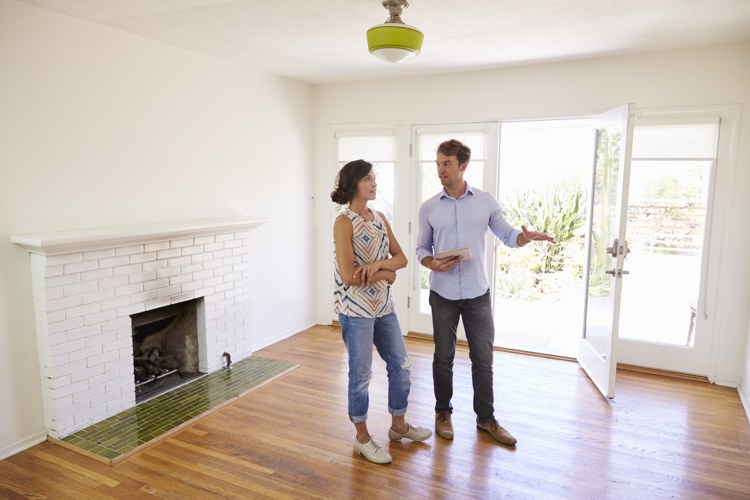 Ask the right questions
Don't shy away from asking the seller questions, and pay attention to the way they react to them.
These are some essential questions to ask:
How long has the property been on the market for?
How many viewings and offers has it had?
How long is the lease (if it has one)? It is ideal to look for at least 83 years on the lease otherwise extensions become very costly and the property very hard to sell.
Ask about the neighbours and if there have been any disputes.
How long have they been living in the property? If it's a short period of time, this might signify an issue with the property or neighbourhood.
What is the cost for utilities and council tax?
Is it friendly for children, with good local schools and leisure facilities?
Take pictures
After viewing a handful of properties your memory may play games with you, causing you to forget important details or mix it up with other properties you saw. A way to keep the memory alive is to take pictures. Most sellers understand that photos are must-have when visiting a property, but make sure to ask first to avoid any potential problems.
Consider resale potential
Plans can change and one day you might find yourself in the position where you want to sell your property, and that's why considering its resale potential is important when buying. The number one factor that can guarantee the resale potential is the location. If you buy a home in a desirable location, chances are it will remain favourable. Another way of maximizing the resale potential is by maintaining the interior and exterior of the property to high standards in order to avoid 'deal-breakers', which may deter any future prospective homebuyers looking at your home.
Get fixtures and fittings in writing
It's easy to become carried away when buying new pieces of furniture for your home, but perhaps your vendor is planning on leaving some fixtures behind? Ask the vendor, or estate agent, to give you a written list of all fixtures and fittings included in the purchase. This could include blinds, washing machine, fridge freezer. And considering, home fixtures and fittings can add up to thousands of pounds, having it included in the asking price is a no brainer for future homeowners, looking to save some cash in the process and will make a big difference to the monetary worth of a property.